General Information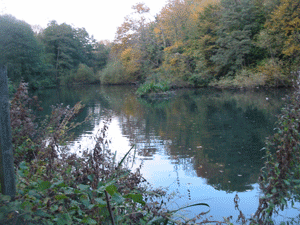 Basted Mills Public Open Space (BMPOS) nestles between 4 Parishes: Borough Green, Ightham, Platt and Plaxtol. It offers a haven for wildlife and allows visitors to wander through its many paths and enjoy the quiet joys of the countryside.
BMPOS lies along part of the river Bourne. This part of the river had been widened into a lake in the nineteenth century to provide water power for Basted mill which once stood where the new houses have been built. Basted Mill Lane runs along the broad river valley and here limited parking provides immediate access to the picnic area and the lake.
The land rises steeply on each side of the valley and paths have been made to explore the wooded slopes and the meadow on top of the hill.
There is a viewing platform on the edge of the lake where mallards, coots, moorhens and little grebe can be observed.
A manmade island has been installed to encourage smaller birds to nest.
The picnic area along the Lane provides fixed tables and benches for food to be eaten in comfort.
Site maps have been provided at the Picnic area and the Meadow and these show the various walks which can be enjoyed.
Walks provide access to along the stream, by the lake, in the woods and to the meadow.