Woodland walks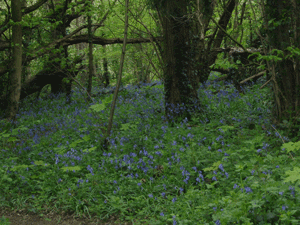 There are 2 separate walks to be enjoyed at Basted Mills Public Open Space. Both walks are on the higher levels of the site and both require using the steps. These steps are very unevenly spaced which has been necessary to avoid the tree roots. Negotiating these steps can be a very slippery during the winter and wet weather. This has proved to be a particularly difficult problem trying to provide access and maintaining the natural beauty of the area.
The first walk can be started at the steps leading down from the picnic area or from the stone steps that lead up from behind the new houses. (Take the public footpath that leads between the houses and look for the steps on the lefthand side). This walk takes you along the stream across the stream and back along the lake. Walking through the woods in spring is a delight among the bluebells, wood anemones and orchids.
The second walk starts on the otherside of the lane from the picnic area opposite the public footpath which comes from Borough Green. Steps lead up to the upper meadow (cricket pitch). The footpath traces the top of the hill and onto a gate that leads on Mill Lane. Walking down Mill Lane provides a high view overlooking the lake. The trees on the slope are coppiced to maintain views of the lake.
Throughout the woodlands there is still evidence of the devestation that the 1987 hurricane caused, Large trees that were uprooted have been left to form part of the wildlife habitat. Other trees which have died have also been left to provide wildlife habitats.